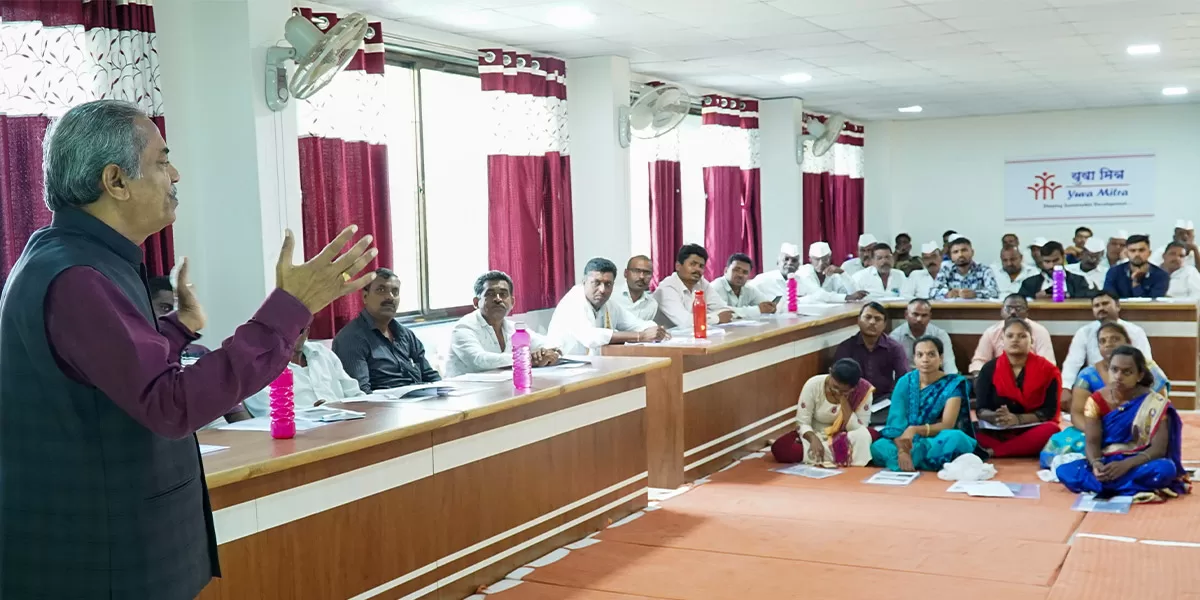 Yuva Mitra is dedicated to rural development, recognizing the paramount importance of Institution Building and Sustainable Agriculture. Agriculture stands as the bedrock of India's economy, providing livelihoods to a significant portion of the population, especially small and marginal farmers with limited land holdings. These farmers face formidable challenges in achieving economies of scale for input procurement and product sales, especially as their surpluses grow. Our journey began with a profound commitment to empowering these communities through robust Institution Building, equipping individuals with the tools, knowledge, and skills needed for self-sustenance.
Our Approach:
At Yuva Mitra, we advocate for the establishment and strengthening of community-based organizations that facilitate participatory decision-making and shared ownership. This ensures that beneficiaries become active participants in their development journey. Our sustainable agriculture initiatives are deeply rooted in eco-friendly farming practices, designed to enhance crop yields while preserving the delicate balance of our environment. Through capacity-building and innovative farming techniques, we empower farmers to improve productivity and sustainability.
Key Achievements:
Formation of 25 Farmer Producer Organizations (FPOs) in Nashik and Dhule Districts, supported by NABARD.
Promotion of approximately 10 FPOs through Cluster-Based Business Organizations (CBBOs).
Spearheading the promotion of 15 FPOs through the People's Organization for Progress and Implementation (POPI).
Independent management and strengthening of around 5 FPOs.
A remarkable success story: "Savitribai Phule Goat FPC," with over 1400 women members and an astonishing 56,000 goats.
Diverse Initiatives:
Comprehensive training programs for FPO CEOs and Board of Directors (BODs) to enhance their capacity in various aspects.
Skill development programs, including Pad stitching, Beauty parlour management, and Fashion design, promoting income generation and livelihood improvement.
Vermicomposting and sustainable agriculture practices that enrich soil health and fertility, reducing reliance on synthetic chemicals.
Best practices for soil health, water conservation, and biodiversity preservation, fostering sustainable farming practices.
Invitation to Collaborate:
Yuva Mitra extends a warm invitation to farmers, NGOs, governments, and corporates to collaborate with us. Our commitment to Institution Building and Sustainable Agriculture translates into tangible benefits for all stakeholders involved.
Farmers: Gain access to cutting-edge agricultural practices, training, and capacity-building programs that empower you to practice sustainable and profitable farming.
NGOs: Find a valuable partner in our institution-building efforts, which strengthen grassroots organizations and foster community participation.
Governments: Leverage our experience and successful models to promote sustainable agriculture and rural development at scale.
Corporates: Discover a strategic partner dedicated to constructing equitable and environmentally conscious supply networks.
We also extend an invitation to corporates to collaborate with us in supporting these Farmer Producer Organizations (FPOs) through CSR initiatives. Together, we can build a more sustainable and equitable future for Indian agriculture and rural development, aligned with the broader agenda of the SDGs.
Yuva Mitra is committed to transforming agriculture, empowering communities, and fostering sustainable practices. Join us in creating a prosperous and resilient future for rural India.
YUVA MITRA'S COMMITMENT TO SDG'S IN INSTITUTION BUILDING AND SUSTAINABLE AGRICULTURE
ESTABLISHED VALUE CHAINS FOR MORE THAN 10 AGRICULTURAL COMMODITIES
45+ TRAININGS CONDUCTED ON SUSTAINABLE AGRICULTURE
WITH MORE THAN 1000 BENEFICIARIES
MORE THAN 50 TRAININGS CONDUCTED FEATURING GOOD
AGRICULTURAL PRACTICES FOR PRESERVATION OF BIODIVERSITY
ESTABLISHED MORE THAN 30 FARMER PRODUCER ORGANIZATIONS
BENEFITING MORE THAN 15000 FARMERS
PARTNERED WITH NABARD FOR ESTABLISHMENT OF FPO'S WITH MAGNET FOR TRAINING
SUPPORT ON VALUE CHAIN AND GIZ FOR TRAININGS ON NATURAL FARMING